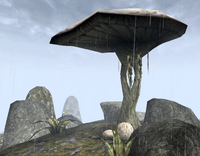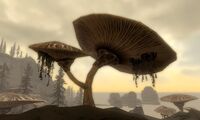 The Emperor Parasol is a breed of giant mushroom native to Morrowind, where they can be seen dotting the landscape.
In the Fourth Era, they began to thrive in the ash wastes of southern Solstheim after Master Neloth transplanted them to the island. Occasionally, a moss will grow on the underside of these mushrooms, which can be harvested and sold as a valuable alchemical ingredient.
External links
Edit
Appearances
Edit
Ad blocker interference detected!
Wikia is a free-to-use site that makes money from advertising. We have a modified experience for viewers using ad blockers

Wikia is not accessible if you've made further modifications. Remove the custom ad blocker rule(s) and the page will load as expected.