For other uses, see Enchanter Survey.
The Enchanter Survey: Glenumbra​ is a Crafting Survey map that marks where a bountiful supply of runes can be found.
6 Protean Runestones, yielding 2 Aspect, 1 Potency, and 1 Essence Runes each.
Acquisition
Edit
This item is given to the Vestige as one of the possible rewards inside an Enchanter's Coffer I, received after completing an Enchanter Writ.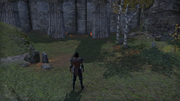 The treasure is located in the northern part of Glenumbra. The closest wayshrine is Burial Tombs Wayshrine.
Once there, take the path that goes west, up the hill. Continue walking until the path hits two stone pillars at the ruins and turns right.
Continue walking northwest, keeping the ruins at your left.
After a few meters, two white trees will mark the treasure area with the dual runes.
Appearances
Edit
Ad blocker interference detected!
Wikia is a free-to-use site that makes money from advertising. We have a modified experience for viewers using ad blockers

Wikia is not accessible if you've made further modifications. Remove the custom ad blocker rule(s) and the page will load as expected.