Ad blocker interference detected!
Wikia is a free-to-use site that makes money from advertising. We have a modified experience for viewers using ad blockers

Wikia is not accessible if you've made further modifications. Remove the custom ad blocker rule(s) and the page will load as expected.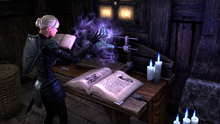 For other uses, see Enchanting.
Enchanting is a crafting profession in The Elder Scrolls Online. The Vestige must find runestones around Tamriel and examine them to get a rune. Then the Vestige must combine an aspect rune, an essence rune and a potency rune in order to create a glyph, that can be used later to enchant weapons, armor or jewelry.
Passive Abilities
Edit
Aspect Improvement: Allows the use of Aspect Runestones.

Rank 1: Common (white) and Standard (green) (Unlocked at Enchanting Level 1)
Rank 2: Superior (blue) (Unlocked at Enchanting Level 6)
Rank 3: Artifact (purple) (Unlocked at Enchanting Level 16)
Rank 4: Legendary (gold) (Unlocked at Enchanting Level 31)

Potency Improvement: Allows the use of Potency Runestones to make level __ Glyphs

Rank 1: Allows use of Jora, Porade, Jode, and Notade to make level 1-15 Glyphs  (Unlocked at Enchanting Level 1)
Rank 2: Allows use of Jera, Jejora, Ode, and Tade to make level 11-25 Glyphs (Unlocked at Enchanting Level 5)
Rank 3: Allows use of Odra, Pojora, Jayde, and Edode to make level 21-35 Glyphs (Unlocked at Enchanting Level 10)
Rank 4: Allows use of Edora, Jaera, Pojode, and Rekude to make level 30-45 Glyphs (Unlocked at Rank 3)
Rank 5: Allows use of Pora, Denara, Hade, and Idode to make level 40-50 Glyphs (Unlocked at Rank 4)
Rank 6: Allows use of Rera and Pode to make level Vetern Rank 1 Glyphs. (Unlocked at Enchanting Level 25)
Rank 7: Allows use of Derado and Kedeko to make level Vetern Rank 3 Glyphs (Unlocked at Rank 6)
Rank 8: Allows use of Recura and Rede to make level Vetern Rank 6 Glyphs (Unlocked at Rank 7)
Rank 9: Allows use of Cura and Kude to make level Vetern Rank 8 Glyphs (Unlocked at Rank 8)

Keen Eye: Rune Stones: Runes in the world will be easier to see when you are ___ meters or closer.

Rank 1: 20 meters or closer (Unlocked at Enchanting Level 2)
Rank 2: 30 meters or closer (Unlocked at Enchanting Level 7)
Rank 3: 40 meters or closer (Unlocked at Rank 2)

Hireling: When you go offline, a hireling will find runestones for you. Your hireling refreshes every 24 hours.

Rank 1: Hireling will find Runestones and send them once a day (Unlocked at Enchanting Level 3)
Rank 2: Hireling has a better chance of finding more rare Runestones to send you once a day. (Unlocked at Enchanting Level 12)
Rank 3: Hireling has a good chance of finding rare Runestones to send you twice a day (Unlocked at Enchanting Level 32)

Aspect Extraction: increases the chance of extracting Aspect Runestones by ___%.

Rank 1: 5% (Unlocked at Enchanting Level 4)
Rank 2: 10% (Unlocked at Rank 1)
Rank 3: 15% (Unlocked at Enchanting Level 29)
Runestones
Edit
Potency Runestones
Edit
| | Additive Runes | Translation | | Subtractive Runes | Translation | Requires | Glyph Prefix | Gear Level |
| --- | --- | --- | --- | --- | --- | --- | --- | --- |
| | Jora | Develop | | Jode | Reduce | Potency Improvement 1 | Trifling | Level 1-10 |
| | Porade | Add | | Notade | Subtract | Potency Improvement 1 | Inferior | Level 5-15 |
| | Jera | Increase | | Ode | Shrink | Potency Improvement 2 | Petty | Level 10-20 |
| | Jejora | Raise | | Tade | Decrease | Potency Improvement 2 | Slight | Level 15-25 |
| | Odra | Gain | | Jayde | Deduct | Potency Improvement 3 | Minor | Level 20-30 |
| | Pojora | Supplement | | Edode | Lower | Potency Improvement 3 | Lesser | Level 25-35 |
| | Edora | Boost | | Pojode | Diminish | Potency Improvement 4 | Moderate | Level 30-40 |
| | Jaera | Advance | | Rekude | Weaken | Potency Improvement 4 | Average | Level 35-45 |
| | Pora | Augment | | Hade | Lessen | Potency Improvement 5 | Strong | Level 40-50 |
| | Denara | Strenghten | | Idode | Impair | Potency Improvement 5 | Major | 10-30 |
| | Rera | Exaggerate | | Pode | Remove | Potency Improvement 6 | Greater | 30-50 |
| | Derado | Empower | | Kedeko | Drain | Potency Improvement 7 | Grand | 50-70 |
| | Recura | Magnify | | Rede | Deprive | Potency Improvement 8 | Monumental | 100-? |
| | Kura | Intensify | | Kude | Negate | Potency Improvement 9 | ? | 140-? |
| | Repora | ? | | Jehade | ? | Potency Improvement 10 | Superb | 150 |
Essence Runestones
Edit
| | Name | Translation | Requires | Additive (-ra) Effect | Subtractive (-de) Effect |
| --- | --- | --- | --- | --- | --- |
| | Dekeipa | Frost | Essence Improvement 1 | Weapon: Deals Frost Damage. | Jewelry: Adds Cold Resistance. |
| | Deni | Stamina | Essence Improvement 1 | Armor: Adds Maximum Stamina. | Weapon: Deals Magic Damage and Restores Stamina. |
| | Denima | Stamina Regen | Essence Improvement 1 | Jewelry: Adds Stamina Recovery. | Jewelry: Reduces Stamina ability cost. |
| | Deteri | Armor | Essence Improvement 1 | Weapon: Grants Temporary Damage Shield. | Weapon: Temporarily reduces target's Spell and Physical Resistance. |
| | Haoko | Disease | Essence Improvement 1 | Weapon: Deals Disease Damage. | Jewelry: Adds Disease Resistance. |
| | Kaderi | Shield | Essence Improvement 1 | Jewelry: Increase Bash Damage. | Jewelry: Reduces Stamina Cost of Bashing and Blocking |
| | Kuoko | Poison | Essence Improvement 1 | Weapon: Deals Poison Damage. | Jewelry: Adds Poison Resistance. |
| | Makderi | Spell Harm | Essence Improvement 1 | Jewelry: Adds Spell Damage. | Jewelry: Adds Spell Resistance. |
| | Makko | Magicka | Essence Improvement 1 | Armor: Adds Maximum Magicka. | Weapon: Deals Magic Damage and Restores Magicka. |
| | Makkoma | Magicka Regen | Essence Improvement 1 | Jewelry: Adds Magicka Recovery. | Jewelry: Reduces Magicka spell cost. |
| | Meip | Shock | Essence Improvement 1 | Weapon: Deals Shock Damage. | Jewelry: Adds Shock Resistance. |
| | Oko | Health | Essence Improvement 1 | Armor: Adds Maximum Health. | Weapon: Deals Magic Damage and Restores Health |
| | Okoma | Health Regen | Essence Improvement 1 | Jewelry: Adds Health Recovery. | Weapon: Deals Unresistable Damage. |
| | Okori | Power | Essence Improvement 1 | | |
| | Oru | Alchemist | Essence Improvement 1 | Jewelry: Increases potion duration. | Jewelry: Reduces potion cooldown. |
| | Rakeipa | Fire | Essence Improvement 1 | Weapon: Deals Flame Damage. | Jewelry: Adds Flame Resistance. |
| | Taderi | Physical Harm | Essence Improvement 1 | Jewelry: Adds Weapon Damage. | Jewelry: Adds Physical Resistance. |
Aspect Runestones
Edit
| | Name | Translation | Requires |
| --- | --- | --- | --- |
| | Ta | Base | Aspect Improvement 1 |
| | Jejota | Fine | Aspect Improvement 1 |
| | Denata | Superior | Aspect Improvement 2 |
| | Rekuta | Epic | Aspect Improvement 3 |
| | Kuta | Legendary | Aspect Improvement 4 |
Appearances
Edit