Falinesti
Talk

0
19,058pages on
this wiki
Falinesti
Have an image of this location?
Then please upload it!
Map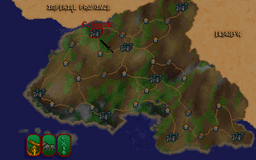 Falinesti is a city in the province of Valenwood. It is one of several possible locations that the Eternal Champion may discover in The Elder Scrolls: Arena.
The walking city of the Bosmer kings, Falinesti is south in the summer and north come Hearth Fire. It is the largest of Valenwood's graht-oaks, whose magic was invoked at the dawn of recorded history. It is said to stand a mile high, and a half a mile wide. It shines with sap in the sunlight, and has green and golden leaves. The Camaron Throne is somewhere in the highest branches, as are numerous other natural dwellings. Two Inn's are known to be in the branches of Falinesti, Mother Pascost's Tavern in the western cross, and Aysia Hall in the top boughs. Wood Elves climb about its surface like termites, use lifts made of moss, leaves, and vines, or carefully swing from level to level by means of thorny vines. Humans have generally been too unsettled by the city to stay there long, though Great Apes and Orcs are common. The Thalmor decided to change the capital of Valenwood from Falinesti to Eldenroot for the duration of the Aldmeri Dominion. In the Fourth Era it is said that the walking city of Falinesti has stopped walking and rooted itself for the first time in recorded history.
Appearances
Edit