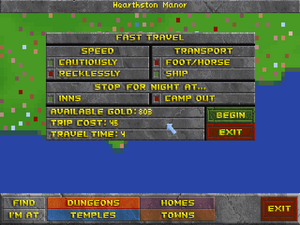 For other uses, see Fast Travel.
Fast traveling is a mode of travel in The Elder Scrolls II: Daggerfall. It differs from other The Elder Scrolls titles in that players do not have to discover a place to fast travel to it. Players can swiftly travel between locations at the cost of gold; the rate depends on the distance; farther locations cost more, while locations of closer proximity to the character are less.
There are many ways to increase and decrease the cost and travel time.
Choose between staying at inns or camping.
Travel recklessly or cautiously.
Travel by horse/on foot or on a ship.
Arriving at night may prevent players from entering certain establishments, however, like previous titles, players can rest until these places are open again.
Appearances
Edit
Ad blocker interference detected!
Wikia is a free-to-use site that makes money from advertising. We have a modified experience for viewers using ad blockers

Wikia is not accessible if you've made further modifications. Remove the custom ad blocker rule(s) and the page will load as expected.