Fight or Flight
Talk

0
19,048pages on
this wiki
This Miscellaneous Quest is listed only in the "Miscellaneous" section.
Grosta
can be located at the
Heartwood Mill
and she is looking for her husband,
Leifnarr
. She asks the aid of the
Dragonborn
to find him.
Walkthrough
Edit
The quest marker show the Dragonborn needs to travel to Broken Helm Hollow. Inside the cave there are three bandits, one of whom is the leader. Clear them out and then search the cave.
They will find a pull chain one can activate which will open a secret chamber. There they will find a corpse but it is simply marked Nord. Search the corpse and this objective will complete.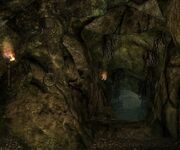 Return to Grosta at the Heartwood Mill and she will reward you with a random Leveled Enchanted Weapon. Although Grosta was never really happy about her husband being away so much she is really sad that he has been killed.
 PC 

 360 

 PS3 

If you find Leifnarr's body in Broken Helm Hollow before getting the quest, you will still get the objective to report his death to his family, but unable to turn it in to Grosta at the Heartwood Mill. It can be fixed by using console command: SetStage E3EA5 30.

Killing Grosta can cause you to fail the quest, removing it from your uncompleted quest screen.