For other uses, see Finna.
Finna was a Nord who lived during the late Merethic Era.
Biography
Edit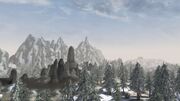 At the age of twelve, when she was a squire to her mother, she played a brief but important role during the Battle of the Moesring, in Solstheim.
During this battle between the Nords and the Snow Elves, Finna's mother, Jofrior, was slain in front of her by the Snow Prince. In her rage Finna took her mother's sword and threw it at the Snow Prince, killing him while he was still on his horse. By this act Finna, still just a child, sealed the fate of the last remaining bastion of Snow Elves in Skyrim.[1]
References
Ad blocker interference detected!
Wikia is a free-to-use site that makes money from advertising. We have a modified experience for viewers using ad blockers

Wikia is not accessible if you've made further modifications. Remove the custom ad blocker rule(s) and the page will load as expected.