Fireball
School
Destruction
Skill Level
Adept (50)
Magicka Cost
133
Effect
A fiery explosion for 40 points of damage in a 15 foot radius. Targets on fire take extra damage.
Spell Tome
Purchase
Tome ID
000A2706
Spell ID
0001C789
For other uses, see Fireball.
Fireball is an Adept level Destruction spell in The Elder Scrolls V: Skyrim. Casting it shoots a somewhat-fast traveling ball of fire that explodes upon impact and deals forty points of fire damage in a fifteen-foot radius. Fireball can set enemies on fire, resulting in additional damage over time, and if it hits an already burning enemy it deals extra damage.
Spell tome
Edit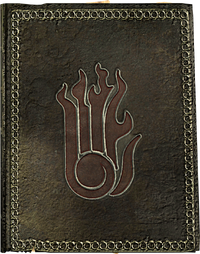 Attributes
Edit
Acquisition
Edit
Appearances
Edit