Firebolt
Talk

2
19,048pages on
this wiki
Firebolt
School
Destruction
Skill Level
Apprentice (25)
Magicka Cost
41
Effect
A blast of fire that does 25 points of damage. Targets on fire take extra damage.
Spell Tome
Random Mage Corpses/Dungeons
Tome ID
000A26FD
Spell ID
00012FD0
Firebolt is an Apprentice-level Destruction spell in The Elder Scrolls V: Skyrim. Casting this spell causes a bolt of fire to be shot at the intended target. Unlike Flames, which sprays a jet of fire continuously, Firebolt must be charged momentarily before being fired. Dual-casting this spell creates a unique animation, but in order to dual cast, the player must upgrade skills in the School of Destruction . Firebolt is also a possible enchantment for staves. Additionally, the player may learn Firebolt before entering The College of Winterhold for the first time, as the Gate keeper Faralda may ask the Dragonborn to perform this spell as a requirement to enter The College of Winterhold. If the player does not know how to cast the spell, Faralda will sell it for 30

.
The "Augmented Flames" perk increases the fire damage done by this spell by 25% on the first point and 50% on the second point.
The "Intense Flames" perk causes targets to flee when health is lowered by fire damage.
"Impact" causes this spell to stagger an opponent when dual casting.
Usefulness
Edit
Casting this spell at dead bodies will cause them to move a great deal. Dual casting enhances this effect (dual casting at a dragon's skeleton will cause it to fly, sometimes farther than the render distance).
Spell tome
Edit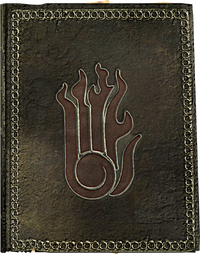 Attributes
Edit
Weight: 1
Value: 96
See Spell Tome for a complete table of spell tomes, their descriptions, and their values.
Acquisition
Edit