Flame Cloak
Talk

0
19,034pages on
this wiki
Flame Cloak
School
Destruction
Skill Level
Adept (50)
Magicka Cost
289
Effect
For 60 seconds, opponents in melee range take 8 points fire damage per second. Targets on fire take extra damage.
Spell Tome
Purchase
Tome ID
000A2703
Spell ID
0003AE9F
Flame Cloak is an Adept level Destruction spell which surrounds the caster in a wall of fire. If an enemy hits or gets too close to the caster that enemy is set on fire for 8 points of damage. Also if Flame Cloak is active, its damage is applied to the Dragonborn's melee damage.
Using Flame Cloak in conjunction with Ironflesh or other Mage-Armor Alteration spells allows the Dragonborn to get close to enemies without taking large amounts of melee damage.
Spell tome
Edit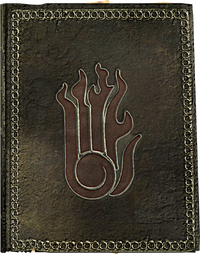 Attributes
Edit
Weight: 1
Value: 325
See Spell Tome for a complete table of spell tomes, their descriptions, and their values.
Acquisition
Edit
Dual casting doubles the range of the spell
J'zargo's Scrolls contain a Flame Cloak spell that deals damage to self and extra-damage to Undead. There are 13 in all. This version of the spell can harm the Dragonborn's Followers and make them hostile.
Ancestor's Wrath, the Dunmer starting power, functions identically to Flame Cloak and produces the same amount of base damage; however, unlike Flame Cloak, Ancestor's Wrath may only be cast once per day.
When the player has an active summoned Dremora Lord, using flame cloak will immediately banish it.
Appearances
Edit