How to be a true Nord with weapon and shield
19,065pages on
this wiki
Forum page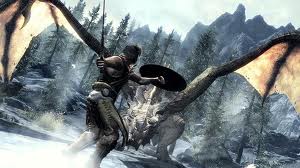 One-Handed

Weapon + Shield + Heavy Armor = A true NORD WARRIOR!
Rule number one is to make sure that you always upgrade your single-handed weapons (swords, maces and war axes) and shield, especially when you level up.
Pick races with warrior abilites (Nord, Orc, Redguard)
Focus only on One-Handed, Block and Heavy Armor skills and perks. For starter, upgrade Armsman perks will give you up to 2x hit damage. For mid-game, Conditioning will give you great advantage for cancelling any heavy armors' weight when worn so you will have extra free space for your loots.
Other important perks: Deflect Arrows, Quick Reflexes, Power Bash and Fighting Stance. Also upgrade perks according to your favorite choice of weapon. For example Bladesman for sword user and Bone Breaker for mace lover.
Each weapons has their pros and cons. In term of attack speed: Sword > War axe > Mace. Vice versa, in term of damage: Mace > War axe > Sword. So it is up to you which one to choose.
And don't forget about weapon enchanment. Generally, important weapon enchanments are Soul Trap (for weapon recharge), element damages (fire, shock and cold) and absorb health/magica. Enchanted weapons will give significant damage to your enemy. Also, it is better to bring more than one type of element damage weapons.
Uprading Smithing skill to 100 will definitely give you some powerful weapon and armor even at low level. Tips: Just forge Iron Dagger (cheapest and easiest) again and again until you reach 100.
For shield, I personally recommended Spellbreaker because of the magic damage protection. This shield can basically block any magic damages including ice/fire/shock spells and also dragon breath. If not, better to pick Elemental Protection perk to be safe.

Don't forget that shields are also divided to heavy armor and light armor. To maximize the Conditioning perk bonus, it is better to use the heavy one.
Learn to block when being attacked. Every blocked blows will increase your Block skill.
Warrior type characters will tend to take a lot of damages so always prepare for the worst case scenario such as ice spike head-shot or the almighty giant's attack. Always bring potions (especially health potions and elemental resistant potions) and use it before entering battlefield. You will never know what will happen next.
For attributes leveling: Health > Stamina > Magicka OR Stamina > Health > Magicka. In short, magicka is not needed.
Take The Warrior Stone for faster skills improvements or The Lady Stone of better health and stamina regenerations.
Do The Companions Guild's quests. You can be a werewolf throughout the missions which will give you 100% disease immunity and shapeshifting ability.
Get an archer/mage compinion for extra range damages.
Having the Sanguine Rose will improve your chance of survival especially in dragon priest fightings. This item will summon a powerful dremora to fight for your for 60 seconds and can be a good tanker.
For heavy armor, Daedric armor has higher armor rating than Dragon armor so it is better to have Daedric armor instead of Dragon armor.
Enchanting skill make your armor more reliable in many ways, including Fortify One-Handed, Fortify Heavy Armor, Fortify Carry Weight and many more so investing in this skill is recommended. Note: Better to take Arcane Blacksmith so you can improve magical weapons and armor.
Still more to come. Any additions are welcome :-)