Frost Cloak
Talk

0
19,073pages on
this wiki
Frost Cloak is an Adept level Destruction spell in The Elder Scrolls V: Skyrim that surrounds the caster in a wall of frost for 60 seconds. If an enemy hits or gets too close to the caster that enemy is chilled for 8 points of damage. 
Spell tome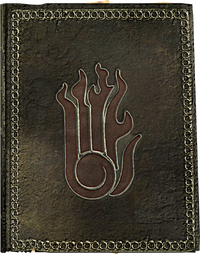 Attributes
Edit
Weight: 1
Value: 340
See Spell Tome for a complete table of spell tomes, their descriptions, and their values.
Acquisition
Edit
The tome is also available from
Dual casting doubles the range of the spell.
The spell does not harm the Dragonborn's Followers.
The spell is not affected by Augmented Frost Perk.
Stealth does not cancel the spell, and the user may still become hidden.