Ad blocker interference detected!
Wikia is a free-to-use site that makes money from advertising. We have a modified experience for viewers using ad blockers

Wikia is not accessible if you've made further modifications. Remove the custom ad blocker rule(s) and the page will load as expected.
Frost Giants are rare creatures, most seem to be located in the frozen Forgotten Vale during The Elder Scrolls V: Dawnguard. They are more powerful than common giants and have double the amount of health.
A unique frost giant, named Karstaag is encountered on the island of Solstheim. Karstaag appeared during The Elder Scrolls III: Bloodmoon and later during The Elder Scrolls V: Dragonborn.
During the events in Dawnguard, five frost giants can be encountered in specific locations in the Forgotten Vale, as part of the quest "Touching the Sky."
Description
Edit
Frost Giants stand between 11 and 12 feet tall. They have a white-blue tint, horned head with four eyes and armed with claws. Their deep breathing often gives their presence away, as with their common cousins and Trolls.
Frost Giants are typically passive like ordinary Giants, but are fiercely territorial and won't hesitate to attack anything that ventures too close. After being killed, they will not respawn.
Abilities
Edit
The following are the frost giants abilities and weaknesses:
Locations
Edit
BloodmoonEdit
In The Elder Scrolls III: Bloodmoon, Kartstaag is located in Mortrag Glacier.
DawnguardEdit
In The Elder Scrolls V: Dawnguard, there are five Frost Giants located throughout the Forgotten Vale, each carrying a different Paragon.
DragonbornEdit
In The Elder Scrolls V: Dragonborn, Karstaag's ghost may be conjured in Castle Karstaag Ruins.
Interactions
Edit
BloodmoonEdit
DawnguardEdit
DragonbornEdit
Quest items
Edit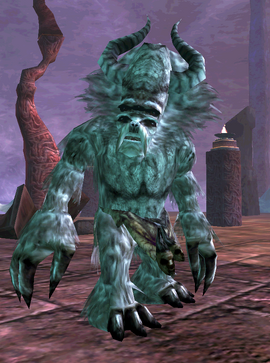 BloodmoonEdit
The unique Frost Giant Karstaag appears during the quests "Hircine's Hunt":
DragonbornEdit
His ghost resurfaces during the unmarked quest "Summoning Karstaag":
Appearances
Edit