Frost Troll
Talk

7
19,080pages on
this wiki
Frost Troll
Basic Info
Level
22
460
0
Stamina
480
Spells/Abilities
Regenerate Health
Resistance
Frost
Loot
Troll Fat
Soul Size
Common
Sound

"If you think you've seen a troll, remain calm and slowly back away. The wise hunter knows that preparation is the key to success, and you certainly don't want to hunt any trolls unprepared!"
―Finn
Frost Trolls are a type of troll found in The Elder Scrolls V: Skyrim. They behave like regular trolls, though they are stronger and much more resilient.  As with ordinary trolls, they have a weakness to fire.
Locations
Frost trolls can be found in snowy areas, such as Winterhold, The Pale, or Eastmarch, as well as snowy areas in SolstheimDB. They are especially fond of caves or dens, but can also be found in abandoned ruins like Labyrinthian. Early in the game, the Dragonborn will encounter a frost troll on the way up the Seven-Thousand Steps, going to High Hrothgar.
Biology
Frost trolls are ape-like, roughly humanoid creatures with long, muscular arms and claw-tipped fingers. The beast's large mouth is filled with jagged teeth. Without a doubt, the troll's most distinctive feature is the third eye in the center of its forehead. A frost troll's hide is covered in a thick, shaggy white coat.[1]
Behavior
Frost trolls are typically hostile to most creatures and rarely back down or flee when faced with a more powerful opponent.
They are incredibly strong for their size, though not very fast. A troll prefers to pummel its prey into submission with powerful arm strikes and claw attacks[1]. Occasionally, they will roar mid-battle or beat their fists on the ground.
Combat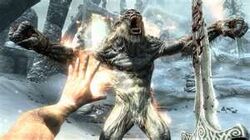 Trolls have the ability to rapidly regenerate. As such, a prolonged fight could prove fatal at low levels. Speed and aggression are the key to beating a troll.[1]
Loot
Combat strategies
Click for Additional Strategies
As levels go, frost trolls will be difficult to deal with until level 30, and even farther up if the Dragonborn has no strong fire spells or fire-enchanted weapons.
One strategy is to lead them into an unimportant location that is patrolled by guards. (Important as a frost troll attack can kill many people and cancel a few quests). The guards will attack it, and may kill it. This can be difficult, as frost trolls aren't usually found close to any towns.
See also
Gallery
Appearances
References