Frostbite
Talk

5
19,069pages on
this wiki
Frostbite is a Novice-level destruction spell. Casting it projects a continuous beam of cold through one or two palms. It slows enemies down while doing a base damage of 8 points per second to the target's health and stamina. It costs 6 magicka per second. This spell is one of the basic Destruction spells along with Flames and Sparks.
Usefulness
Edit
Spell tome
Edit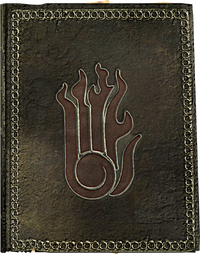 Attributes
Edit
Weight: 1
Value: 47
See Spell Tome for a complete table of spell tomes, their descriptions, and their values.
Acquisition
Edit
Frostbite creates harmless 'ice shards' if casted on an object or on ground.

Despite the majority of the population of Skyrim being frost-resistant Nords, frostbite is a very commonly used spell by hostile characters in the game.
 360 

 If the attack button is just barely tapped while the spell is equiped it may lock the animation in the hand to that of casting the spell, rather than the inactive animation.

Tapping again or casting the spell corrects this.