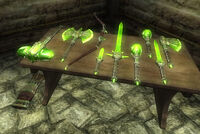 Main article: Weapons (Oblivion)
For other uses, see Glass Weapons.
Glass weapons are principally made from a rare material called malachite.[1] In contrast to ebony weapons, glass weapons are much lighter.
Characteristics
Edit
These weapons are semi-translucent or opaque green and give off a greenish-glow in the dark. They begin appearing randomly in the world and on opponents after player level 12. Strangely, the Glass Longsword does more damage (at max health) than the Glass Claymore. On another note, if Valus Odiil's quest "The Killing Field" is completed and both of his sons survive, then a unique blue glass shortsword called Chillrend will be received. He is located at the Grey Mare in Chorrol.
"Base Value" refers to the actual value without Mercantile or disposition affecting it.
"Max. Damage" refers to the maximum amount of damage an item can do, assuming maximum stats and skill.
"Health" refers to a weapon's durability, "speed" refers to a weapon's attack speed, and "reach" refers to how close an opponent must be in order to be struck with a weapon. Also there are replicas in display cases that look the same but they're weaker than rusty iron.
Appearances
Edit
References
Ad blocker interference detected!
Wikia is a free-to-use site that makes money from advertising. We have a modified experience for viewers using ad blockers

Wikia is not accessible if you've made further modifications. Remove the custom ad blocker rule(s) and the page will load as expected.