Gold Ore
Talk

0
19,073pages on
this wiki
Gold Ore
Weight:
1
Base Value:
20
Type: Ore
FormID:

0005ACDE
Gold Ore is used to make Gold Ingots at a Smelter. It is not possible to make armor or weapons from it, (although you can use it to improve the Dragon Priest Mask Konahrik) but it is possible to make jewelry.
Transmute
Edit
Gold Ores may be transmuted from Silver Ore using the Transmute Mineral Ore spell. You will need gold ore for a quest for Madesi, in Riften.
Gold Ore Vein
Edit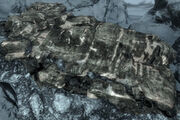 Gold Ore Veins are mined with a Pickaxe to obtain Gold Ore. Each vein, when mined, has a chance to produce a precious gem.
Locations
Edit
Gold Ore can be purchased from Blacksmith merchants or found:
Dawnguard
Edit
With the The Elder Scrolls V: Dawnguard expansion many types of ore can be obtained from killing gargoyles. These ores can be rare and gold ore is commonly obtained.
Dragonborn
Edit
In Solstheim, 1 vein is found near Haknir's Shoal close to some dead reavers killed by reiklngs
| Source | Weight | Septims | Ingot | Weight | Septims |
| --- | --- | --- | --- | --- | --- |
| Gold Ore | 1 | 50 | Gold Ingot | 1 | 100 |