Grand Healing
Talk

0
19,063pages on
this wiki
Grand Healing is an expert level (one-handed) Restoration spell in The Elder Scrolls V: Skyrim that heals everyone within 15 feet of the caster for 200 points (300 with Regeneration perk). This spell will heal the caster and followers but will not heal atronachs or thralls.
Usefulness
Edit
On occasion grand healing may also heal enemies. These occasions occur primarily when the enemy was originally friendly but became hostile due to some circumstance such as wielding a weapon against the 'friendly' enemy. If the player chooses to attack the enemy, this attack may be exploited to level many different skills. Presumably this is a bug due to hostile flag not being set correctly.
Spell tome
Edit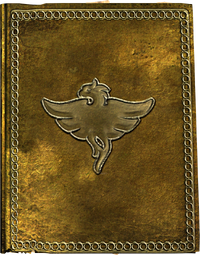 Attributes
Edit
Weight: 1
Value: 680
See Spell Tome for a complete table of spell tomes, their descriptions, and their values.
Acquisition
Edit
Appearances
Edit