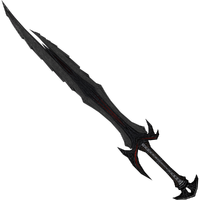 For other uses, see Greatswords.

"Takes a fair bit of strength to carry a greatsword like that. But can you use it?"
Greatswords are massive, two-handed swords found in The Elder Scrolls V: Skyrim. They deal more damage than their one-handed counterparts, but swing far slower, are much heavier, and leave the Dragonborn unable to use a shield.
Greatswords swing faster than either warhammers or battleaxes, but deal the least amount of damage of any other two-handed weapon.
Greatswords
Trivia
In previous games in the series, Greatswords were known as Claymores.
Bugs
If a Greatsword is equipped at the same time as crossbow bolts, part of the weapon will appear to cut through the quiver, which would make it difficult to actually store bolts inside, primarily due to the weapon's size. This is not the case with Battleaxes, Warhammers, or One-Handed weapons.
Appearances