Guar
Basic Info
Level
3
38
5
Fatigue
400
Soul
20
Combat Skills
30
Magic Skills
90
Stealth Skills
20
1- 9
BaseID
guar; guar_feral; guar_pack; guar_hrmudcrabnest; guar_pack_tarvyn_unique; guar_rollie_unique; guar_white_unique
Sound
Main article: Creatures (Morrowind)
For other uses, see Guar.
The Guar are creatures in The Elder Scrolls III: Morrowind.
Background
Edit
The guar are described by characters in Vvardenfell as follows:
The guar is the dominant domesticated herd animal of Morrowind, useful as a pack animal and for its meat and hides. [1]
Locations
Edit
Variations
Edit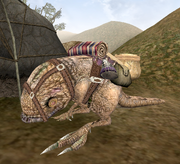 Unique Guar
Edit
Several unique guars can be found in Morrowind. They are:
Related quests
Edit
Appearances
Edit
References