Main article: Creatures (Morrowind)
For other uses, see Guar.
The Guar are creatures in The Elder Scrolls III: Morrowind.
Background
Edit
The guar are described by characters in Vvardenfell as follows:
The guar is the dominant domesticated herd animal of Morrowind, useful as a pack animal and for its meat and hides. [1]
Locations
Edit
Variations
Edit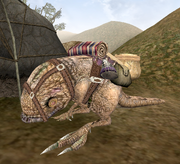 Unique Guar
Edit
Several unique guars can be found in Morrowind. They are:
Related quests
Edit
Appearances
Edit
References
Ad blocker interference detected!
Wikia is a free-to-use site that makes money from advertising. We have a modified experience for viewers using ad blockers

Wikia is not accessible if you've made further modifications. Remove the custom ad blocker rule(s) and the page will load as expected.