"You're not thinking of causing trouble here in this beautiful city, now are you? 'Cause I'd strongly advise against such foolishness."
―Commander Caius
Guard Captains or Commanders, are men put in command of the local guards of a region or unit. They have many different types of Guard Captains present in the games as there are different Guards.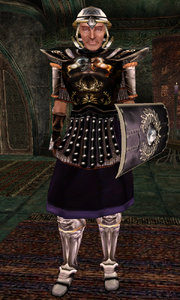 There are a variety of different Houses in Morrowind. Despite their various beliefs and allegiances, all of Morrowind's guards enforce their own laws first but enforce Imperial law and honor Tribunal law as well.
Imperial Legionaries
Edit
City Guard Captains command the City Watch in each city. They are charged with upholding the law and defending the city from attack.
Burd - Captain of the Bruma Guard.
Danus Artellian - Captain of the Skingrad Castle Guard.
Dion - Captain of the Skingrad Town Guard.
Hold Guard Captains are put in charge of the Hold Guard of each Hold, they are charged with upholding the law and defending the Hold from attack. They are also helped by either a Legion Legate or a Stormcloak Commander who commands the local Legion or Stormcloak guards.
Ad blocker interference detected!
Wikia is a free-to-use site that makes money from advertising. We have a modified experience for viewers using ad blockers

Wikia is not accessible if you've made further modifications. Remove the custom ad blocker rule(s) and the page will load as expected.