Hall of Countenance
Talk

0
19,086pages on
this wiki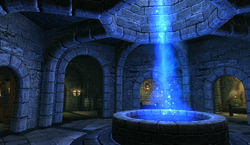 While the Hall of Attainment houses the sleeping quarters of apprentices at The College of Winterhold, the Hall of Countenance houses the sleeping quarters of the more advanced mages of the college. It is found along the wall to the right in the courtyard, when you first walk into the college. Characters such as Phinis Gestor, Faralda, Drevis Neloren, Colette Marence, and Sergius Turrianus have beds here. Upstairs, there is an Alchemy Lab and an Arcane Enchanter.
This section contains bugs related to Hall of Countenance. Before adding a bug to this list, consider the following:
Confirm all bugs with other editors on the talk page before adding them below.
Always try reloading an old save first, before asking for assistance.
Don't discuss possible bug fixes or origins. Leave those and all other first-person-anecdotes on the talk page, not the article.
Always add

 360 

 ,

 PS3 

 , and

 PC 

  to clarify which system the bug appears on.
Occasionally, on console, the NPC's will ask you to leave if you take anything from your own room. They will also insist that you don't belong there even if you are enrolled in the college. It is best to leave once they ask - to avoid them becoming hostile.
Notable Loot
Edit
Alchemy ingredients