Harmony is a Master leveled Illusion spell in The Elder Scrolls V: Skyrim that requires the use of both left and right hands. It causes both creatures and people up to level 25 to become unhostile for 60 seconds.
Spell tome
Edit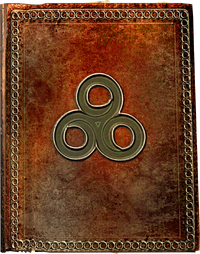 Attributes
Edit
Weight: 1
Value: 1220
See Spell Tome for a complete table of spell tomes, their descriptions, and their values.
Acquisition
Edit
The Dragonborn receives the Harmony Spell Tome as a reward for finding the Master spell books in the College of Winterhold after reaching level 100 Illusion.
The perks that affect this spell are:
The spell may kill a Hawk if it is casted upon it.
Appearances
Edit
Ad blocker interference detected!
Wikia is a free-to-use site that makes money from advertising. We have a modified experience for viewers using ad blockers

Wikia is not accessible if you've made further modifications. Remove the custom ad blocker rule(s) and the page will load as expected.