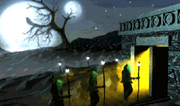 Main article: Attributes (Daggerfall)
For other uses, see Health.
Health is a base attribute in The Elder Scrolls II: Daggerfall. It represents how much damage Hero can take before dying. Health increases automatically when the Hero levels up. Health can be restored using spells, potions, or by resting.
Appearances
Edit
Ad blocker interference detected!
Wikia is a free-to-use site that makes money from advertising. We have a modified experience for viewers using ad blockers

Wikia is not accessible if you've made further modifications. Remove the custom ad blocker rule(s) and the page will load as expected.