Not to be confused with Death Hound.

"These canines are actually from the nether planes, usually summoned by some powerful being to perform a service. They attack with their powerful jaws, or with a fire breath that burns their intended victims."
―Official Arena Game Guide.[OOG 2]
Hell Hounds are creatures encountered in The Elder Scrolls: Arena.
Description
Edit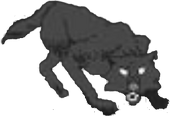 Hell Hounds are demonic canines Summoned by powerful beings, such as high level Mages, to perform a service, like guarding dungeons or attacking foes.
These creatures have the appearance of a black wolf with glowing red eyes. Hell Hounds are hazardous monsters who can cause massive damage with their long range Fireball or with their jaws at close combat.
Hell Hounds are between ghouls and ghosts in terms of strength. Such dangerous creature can only be defeated by a well prepared or a high level opponent. The effect Resist Fire will be greatly useful when fighting Hell Hounds, it comes in form of potion and spell.
During the quest "Fang Lair," Hell Hounds make their first appearance as sub-bosses on the last room.
Due to their description, Hell Hounds may be Daedric in origin.
Hell Hounds can disintegrate themselves shooting their Fireball on close objects.
| | |
| --- | --- |
| | |
| Length: | 0.5sec |
| Description: | Hell Hound Sound |
Appearances
Edit

References
Notice
: The following are
out-of-game
references. They are not found in any in-game books, but can still be considered part of
The Elder Scrolls
lore and are included for completeness.