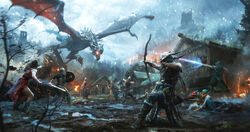 Heroes of Skyrim is the first expansion for The Elder Scrolls: Legends which arrived on June 29th, 2017. It includes more than 150 new cards based on the lore from The Elder Scrolls V: Skyrim.[1] The expansion introduced new mechanics, abilities, and more to the game, with cards featuring dragons, Shouts, Companions, and fan-favorite characters.
Dragons bring new abilities appearing across all attributes. Many cards reward players for using them in conjunction with Dragons, adding a variety of combinations.
Shouts allow players to master the language of dragons. In Heroes of Skyrim, Shouts power up, resulting in changing abilities each time players use them (up to three levels).
Purchasing
Edit
Card packs can be purchased through the in-game store and can be added to any deck.
References