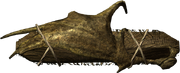 Hides are a type of item found in The Elder Scrolls V: Skyrim.
Description
Edit
Hides are animal skins which can be tanned at a tanning rack to create usable leather which can then be used in Smithing.
Hides normally refer to the animal skin taken from herbivores, such as horses, cows, and deer. This is what differentiates them from pelts.
Appearances
Edit
Ad blocker interference detected!
Wikia is a free-to-use site that makes money from advertising. We have a modified experience for viewers using ad blockers

Wikia is not accessible if you've made further modifications. Remove the custom ad blocker rule(s) and the page will load as expected.