Holds
Talk

0
19,100pages on
this wiki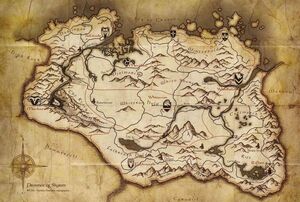 Holds are the 9 administrative divisions of Skyrim. Each Hold has a capital city; they also have separate Hold Guards, which means crime is tracked independently by each Hold, and a criminal who is wanted in one Hold may have no bounty in another.
Each of the nine Holds is governed by a Jarl. The Jarls are largely independent, but swear fealty to Skyrim's High King (a title which always belongs to one of the Jarls, most recently the Jarl of Haafingar), who in turn swears fealty to the Emperor.
Each Hold also has its own Steward, an advisor to the Jarl who handles some administrative duties on the Jarl's behalf, and a court wizard. A Hold can also have Thanes, members of the Jarl's court (often nobles) who serve the Jarl as friends and councillors, but Thanes are not a necessary part of a Hold's government — only the courts of Haafingar and Falkreath currently have Thanes.
The Holds of Skyrim
* - can change if the Dragonborn undertakes the Skyrim Civil War questline.
† - Eastmarch and Haafingar are the "centers" of their respective factions.
‡ - Solitude is also the overall capital of Skyrim.