Ad blocker interference detected!
Wikia is a free-to-use site that makes money from advertising. We have a modified experience for viewers using ad blockers

Wikia is not accessible if you've made further modifications. Remove the custom ad blocker rule(s) and the page will load as expected.
For other uses, see Houses.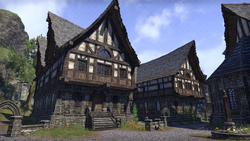 Houses are buildings in which one or more people live in. Houses can be used by characters for sleeping, eating, and storage.
Houses can not be purchased by the player. If one needs a place to sleep, they can pay 10
at an Inn for a night, and another ten gold for every night after that.
List of houses
Edit
| House | Inhabitant | Location |
| --- | --- | --- |
| Agapitus' House | [?] | Arenthia |
| Ambarel's House | Ambarel † | Skywatch |
| Angranel's House | Angranel | Western Elsweyr Gate |
| Antias House | Prefect Antias | Cropsford |
| Arbogasque's Home | Padier Renoit, Sergeant Stegine | Dreughside |
| Avani House | Revyn Avani, Salver Avani | Davon's Watch |
| Azeex-Eix's House | Azeex-Eix | Outside Ebonheart |
| Azjai-Tee's House | Azjai-Tee | Outside Ebonheart |
| Bahrez's House TG | Bahrez | Abah's Landing |
| Balbus' House | Remius Balbus confirmation needed | Cropsford |
| Bertran Oscent House | Bertran Oscent | Koeglin Village |
| Bienena House | Antys Bienena, Kasorayn Bienena | Alcaire Castle |
| Boarding House | Deetwos, Jalienna, Uggnath, Vingarion | Port Hunding |
| Borrows-Trouble's Hut | Borrows-Trouble | Stormhold |
| Borwiian's House | Borwiian | Vulkwasten |
| Captain Viveka's House | Captain Viveka | Riften |
| Cassirion's House | Cassirion, Quertasse | Marbruk |
| Celus Arandos' House | Celus Arandos † | Vulkhel Guard |
| Cergend House | Eugenie Cergend, Marie Cergend | Daggerfall |
| Chill House | Giraud Scraeg | Southern Glenumbra |
| Condalin's House | Condalin, Esteltin | Mathiisen |
| Constable Pascal's House | Constable Pascal | Koeglin Village |
| Dame Falhut's House | Dame Falhut | Alcaire Castle |
| Dariot Morrad's House | Dariot Beriel | Wrothgar |
| Daynila's House | Daynila | Stormhold |
| Donella's House | Councilor Donella | Crosswych |
| Dorell Farm | [?] | South of Northpoint |
| Drinks-With-Crabs's House | Drinks-With-Crabs | Ebonheart |
| Dull-Scales's House | Dull-Scales | Ebonheart |
| Earrastell's House | Earrastel | Marbruk |
| Earth-Turner House | Aera Earth-Turner, Denskar Earth-Turner, Littrek Earth-Turner, Trynhild Earth-Turner | Bleakrock Village |
| Edrald Estate | Allan Edrald, Arlie Edrald, Dulkhi, Federic Seychelle | Rivenspire |
| Edrien Dencent Cottage | Edrien Dencent | Aldcroft |
| Eiman and Rolunda's House | Eiman, Rolunda | Bleakrock Village |
| Elannie's House | Elannie | Dawnbreak |
| Erelruin's Home | Erelruin | Longhaven |
| Esqoo's House | Esqoo | Dhalmora |
| Ezreba's House | Ezreba | Greenhill |
| Farm House | [?] | Riften |
| Fasaran's House | Fasaran | Dawnbreak |
| Flan House | Adol Flan, Balaru Ven, Grell Flan, Hlarei Althranis, Hlava Areloth | Quarantine Serk |
| Forongon's House | Forongon | Vulkwasten |
| Frostheart House | Branir Frostheart, Harnald | Riften |
| Gane House | Bertrand Gane, Rognar | Daggerfall |
| Gethis' House | Gethis Omobar | Stormhold |
| Halino's House | Halino | Shattered Grove |
| Halmaera's House | Halmaera | Bleakrock Isle |
| Hastien House | Bernice Hastien, Maxevain Hastien | Daggerfall |
| Hears-the-Wind's Home | Hears-the-Wind, Markka | Rawl'kha |
| Home of Adiel Charnis | Adiel Charnis | Wayrest |
| Ianix's Hut | Ianix | Stormhold |
| Ice-Heart Home | Ice-Heart | Northwest Cyrodiil |
| Inconspicuous House | Cariel, Kazirra, Orthoron | Arenthia |
| Indoril Manor | Garyn Indoril, Tanval Indoril, Wanam-Jush | Davon's Watch |
| Ingamircil's House | Ingamircil | Skywatch |
| Iranya's House | Iranya | Shattered Grove |
| Jeran House | Jeran | Daggerfall |
| Jin-Ei's House | Jin-Ei | Sulfur Pools |
| Juranda-ra's House | Juranda-ra | Laughing Moons Plantation |
| Kalari's House | Kalari | Reaper's March |
| Kardyn's Home | Winral al-Bergama | Alcaire Castle |
| Klang Manor | Klang | Wayrest |
| Laganakh's Home | Laganakh | Betnikh |
| Lavergne House | Ursyvyra Lavergne, Irvic Lavergne | Daggerfall |
| Lemaitre Manor | Khojifa, Madame Lemaitre | Wayrest |
| Lerineaux Manor | Lerineaux | Daggerfall |
| Lick Longfin's House | Licks-Longfins | Outside Ebonheart |
| Listens-to-Water's Hut | Listens-to-Water | Stormhold |
| Looks-too-Long's Hut | Looks-too-Long | Stormhold |
| Ma'jhad Kha's House | Ma'jhad Kha | Steelheart Moorings |
| Mage Fiirenir's House | Mage Fiirenir | Greenwater Cove |
| Manor House | Canonreeve Nesaranwe, Coinclerk Arawe, Coinclerk Sanamen, Collector Telandil | Vulkhel Guard |
| Maormer Embassy | Ulondil, Clerk Aryaamo, The Green Lady | Mistral |
| Mayor's House | Councilor Lia, Marayna Murric, Tamien Sellan | Crosswych |
| Merormo's Tower | Merormo | Shattered Grove |
| Miltrin's Fishing Cabin | Miltrin | On a small island north of Daggerfall |
| Mirkalinde's House | Mirkalinde | Dawnbreak |
| Nalman's House | Nalman | Stormhold |
| Neebaxireet's House | Keema-Ja | Dhalmora |
| Old Ida's Cottage | Ida | Deshaan, east of Narsis |
| Orval's House DB | Orval Uveran | Anvil |
| Parenonas' Home | Parenonas | Longhaven |
| Patheirry House | Roulena Pathierry | Daggerfall |
| Peruin's House | Peruin | Vulkwasten |
| Pharad's Home | Pharad | Woodhearth |
| Pinanande's House | Canonreeve Pinanande | Shattered Grove |
| Pojeel's Hut | Pojeel | Stormhold |
| Praldyn's Home | Praldyn | Wayrest |
| Sabyssa's Blacksmithing | Sabyssa the Blacksmith | Koeglin Village |
| Scaeva House | Flavia Scaeva | Cropsford |
| Sethri House | Bodsa Sethri, Tivela Sethri | Davon's Watch |
| Shara's House | Shara | Vulkhel Guard |
| Sir Hughes House | Sir Hughes | Alcaire Castle |
| Snow-Bourne House | Julni | Bleakrock Village |
| Spinner Dothriel's Home | Spinner Dothriel | Silvenar |
| Spinner Einrel's Home | Spinner Einrel | Silvenar |
| Stogrin House | Thibault Stogrin, Cesarelle Stogrin | Daggerfall |
| Stonebridge Mill | Ingride Vanne | Stormhaven |
| Supplication House | [?] | Malabal Tor, east of Vulkwasten |
| Sweetbreeze Cottage | Lobelathel | Grahtwood, northwest of the Gray Mire Wayshrine |
| Tarvynil's House | Tarvynil | Stormhold |
| Teroni Serelnim's House | Teroni Serelnim | Ebonheart |
| Theodore's House | Councilor Theodore | Crosswych |
| Thoda's Home | General Thoda | Outside Alcaire Castle |
| Vachel's House | Vachael | Daggerfall |
| Varlas House | Evis Marys,Naryu Virian | Narsis |
| Velmont Mansion TG | Marayna Velmont, Percy Velmont | Abah's Landing |
| Verobar House | Ornis Verobar, Nilyne Hlor | Quarantine Serk |
| Virgile's House | Councilor Virgile | Crosswych |
| Watch Captain Astanya's Home | Watch Captain Astanya | Vulkhel Guard |
| Windtorn House | Amifar Windtorn, Bonohild Windtorn, Yiri Windtorn | Riften |
| Zabibi's House | Zabibi | Arenthia |
| Zasha-Ja's House | Zasha-Ja | Ebonheart |
† This character does not appear in game