Icy Spear
Talk

0
19,003pages on
this wiki
Icy Spear is an Expert-level Destruction spell in The Elder Scrolls V: Skyrim. When cast, it causes 60 points of Frost damage to a target's health, and 60 points of damage to a target's stamina. Like Ice Spike, Icy Spear launches a single projectile, which must be charged between casts.
Usefulness
Edit
When dual cast with the Impact perk and Augmented Frost perks or an Elixir of Destruction (+50% damage) it will always stagger an opponent, regardless of the creatures size or type.
Spell tome
Edit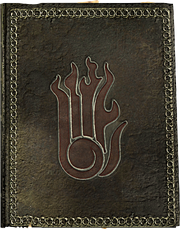 Attributes
Edit
Weight: 1
Value: 725
See Spell Tome for a complete table of spell tomes, their descriptions, and their values.
Acquisition
Edit
Faralda at The College of Winterhold sells this spell once the player reaches Destruction level 70.
Very rarely, it may be found as a random drop as low as Destruction Level 40.

Random Drops are random and dependent on player level, with high enough character level it is even possible to find Flame Thrall tomes in Dragonborn. Your personal destruction level doesn't effect random loot generators.
A video showing the spell being cast can be found here.