Investor
Talk

23
18,977pages on
this wiki
Investor
Effect:


Can invest 500 gold with a shopkeeper to increase his available gold permanently.

Requirement:
Speech 70
Prerequisite:
Merchant
Allows:
Fence
Investor is a Perk that becomes available when you reach 70 in the Speech skill. Using this Perk allows you to invest 500

in certain shops and merchants.
This means that the shops you have invested in will have 500

more with which to barter.
You may also invest in the shop that your spouse owns.
As a general rule, you could make an investment only once to each shop, though there are some exceptions (read below).
Can invest 500

with a shopkeeper to increase his or her available funds permanently.
Requirement
Edit
Shops & Traders Available To Invest In
Edit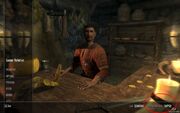 In a unique case, Lucan Valerius

in

Riverwood Trader will have a sum of 10,000 or more.

 PS3 

  For those who prefer to have as little 'Days Passed/Hours Waited/Slept', restarting the game (must exit to the PS Start Screen, not the game's Title Screen), then selecting Continue; one can restock any Merchant's funds,rendering this perk as well as Master Trader redundant (Merchant's funds revert to previous values pre-restart if any saves are loaded, excluding the first Continue.

 PC 

 

 PS3 

 

 360 

  Save game, then kill a merchant. Reload the game and the merchant will be fully stocked with new items and funds (this works without the perk).

 PS3 

   After installing patch 1.9 get the investor perk, invest in every available merchant, increase your speech skill to 100 and convert the speech skill to Legendary.  Despite returning your perk points, the investments remain and merchants will have more money to deal with you.  This also works with the Master Trader perk which together with investor will give most merchants approximately 2,500 coin making it much easier to level speech back to 100.  
 360 

 

 PS3 

 With Merchants (Skyrim) listed below you can make unlimited Investments, but they might not restock more than 500 .

 PC 

 360 

 PS3 

Sometimes the Dragonborn may be unable to invest in his/her spouse.
Ghorza gra-Bagol (Blacksmith in Markarth) will agree to allow you to invest, but then the dialog for you to do so may only show the back-out option.