Iron-Breaker Mine
Talk

0
19,048pages on
this wiki
 Iron-Breaker Mine
Map
Hold
The Pale
Location
The city of Dawnstar
Type
Mine
Sublocations
None
Characters
Gjak
Bodil
Location ID
DawnstarIronBreakerMine
Description
Edit
Iron-Breaker Mine is, as the name might suggest, a mine with a number of iron veins within it. It is located in Dawnstar, and is adjacent to the White Hall, in which Jarl Skald of Dawnstar resides. It is owned by Beitild.
Outside the mine, the player will encounter a number of NPCs who appear to be miners by trade, as well as a smelting furnace for those interested in the smithing skill.
Inside, more miners can be found, as well as many iron veins. There are plenty of pickaxes laying around, so the player can use them on the veins.
Notable Items
Edit
Amenities
Edit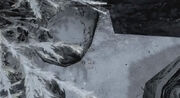 To the left of the mine entrance there are three rocks next to bushes that conceal an invisible chest. Go next to the rocks and move the crosshairs along the rocks until "Search Chest" appears. The chest belongs to Ahkari, and contains a wide selection of items.

The contents usually include several level-dependent enchanted weapons, a number of jewels, many potions and other assorted items, as well as an amount of gold. Ahkari is a khajiit trader, and can be found camped outside Dawnstar or one of the other cities. You can refresh the contents of the chest by waiting 48 hours, and asking Ahkari what she has for sale. Items sold to her will also appear in the chest, and this is an easy source of gold.
Appearances
Edit