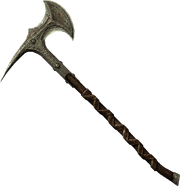 For other uses, see Iron Weapons.

"Iron Sword, eh? What are you killing, butterflies?"
Iron Weapons are the first type of weapons the Dragonborn has access to and the weakest as well. They can be crafted at a forge and enchanted at an arcane enchanter. Below is a list of different types of iron weapons that can be crafted in Skyrim, along with their stats and the materials required to craft them.
Attributes by piece
Edit
† Crafting Iron Arrows requires Dawnguard to be installed. Each recipe yields 24 arrows.
Appearances
Edit
Ad blocker interference detected!
Wikia is a free-to-use site that makes money from advertising. We have a modified experience for viewers using ad blockers

Wikia is not accessible if you've made further modifications. Remove the custom ad blocker rule(s) and the page will load as expected.