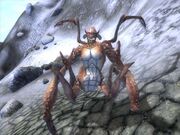 Karvinasim is the periodical event that takes place in a dreugh's life. Karvinasim is when a dreugh leaves its underwater life and becomes suitable for dry land-dwelling, thus becoming a land dreugh. Through the process of living on land, the dreugh's body creates organs and skin needed to survive and function on land. Once a dreugh returns to its aquatic life, they "meff," or devour, their own organs and skin. Once done indulging, they vomit it up into a ball shaped substance called Grom.[1]
Appearances
Edit
References
Ad blocker interference detected!
Wikia is a free-to-use site that makes money from advertising. We have a modified experience for viewers using ad blockers

Wikia is not accessible if you've made further modifications. Remove the custom ad blocker rule(s) and the page will load as expected.