Khajiit (Online)
Talk

2
21,845pages on
this wiki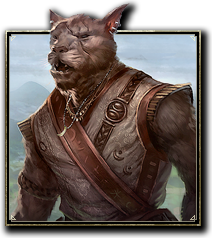 For this race in other games, see Khajiit.
The Khajiit are a playable race in The Elder Scrolls Online. They are part of the Aldmeri Dominion, along with the Altmer and Bosmer.[1]
A proud feline race from the southern land of Elsweyr, Khajiit are agile, irreverent, quick-witted, and fiery, often changing mood in a heartbeat. They revere Nirn's two moons, and have a weakness for anything sweet.[2] The Khajiit are fearsome warriors, proficient with bladed weapons, and stand proudly at the forefront of every battle.[3]
Official description
Edit
The population of the proud feline Khajiit has dwindled in recent years following a devastating outbreak of Knahaten Flu. They owe a great debt to Ayrenn, Queen of the High Elves, for her help in restoring order from the chaos that followed the plague. They have a wry wit and a hedonistic outlook, but they are fearsome on the field of battle. They are the strong arm of the Aldmeri Dominion.[3]
Racial Abilities
Edit
Ultimate Abilities
Eye of Fear - (Instant / 36 meter range / 120 Ultimate) Fear target and cause it to take 5% additional damage from all attacks for 5 seconds.
Passive Abilities
Appearances
Edit
References
Edit