Ad blocker interference detected!
Wikia is a free-to-use site that makes money from advertising. We have a modified experience for viewers using ad blockers

Wikia is not accessible if you've made further modifications. Remove the custom ad blocker rule(s) and the page will load as expected.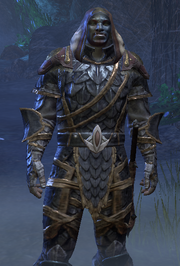 Main article: Item Sets
Knightmare is a named equipment set found in The Elder Scrolls Online. Owners must actively wear three set pieces to receive the Set Enhancement and five set pieces to receive a special bonus enhancement. Item values, level, and stats vary from item to item and are influenced by character skills, magical bonuses, and decay.
Set enhancement
Edit
(3 Items) Knightmare
Adds 321 maximum health (5 items) knightmare 20% chance on melee attack to reduce damage of nearby enemies 10% for 5 seconds. This effect can happen every 20 seconds.
Set items
Edit
Cuirass of the Knightmare (Chest) (Heavy Armor)
Gauntlets of the Knightmare (Hand) (Heavy Armor)
Greaves of the Knightmare (Legs) (Heavy Armor)
Acquisition
Edit
Items from this set may be found as loot from quests and enemies throughout Tamriel, starting with quests and areas intended for level 20-30 characters. (area level is determined by creature levels)
Appearances
Edit