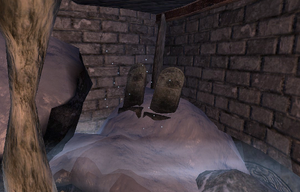 Lennasaan is buried in the vault of Frostcrag Spire. The inscription reads: "Here lies the mysterious Lennasaan, renown master of writing and storyteller supreme."
Activating her tombstone will give you the following bonuses:
One can activate it once per day.
Lennasaan's grave is next to Rindsey's.
Appearances
Edit
Ad blocker interference detected!
Wikia is a free-to-use site that makes money from advertising. We have a modified experience for viewers using ad blockers

Wikia is not accessible if you've made further modifications. Remove the custom ad blocker rule(s) and the page will load as expected.