"There's no place like it in Cyrodiil; it's truly one-of-a-kind. You should think about joining. Dagail can make you a member, if you like."
Leyawiin Mages Guild is the base of operations for the Mages Guild in Leyawiin. It is located in the southwest section of the city, southwest of the Leyawiin Fighters Guild and west of the Blackwood Company. Leyawiin's mages specialize in the Mysticism skill of magic.
Guild members
Edit
Notable items
Edit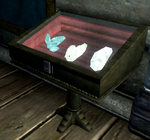 Appearances
Edit
Ad blocker interference detected!
Wikia is a free-to-use site that makes money from advertising. We have a modified experience for viewers using ad blockers

Wikia is not accessible if you've made further modifications. Remove the custom ad blocker rule(s) and the page will load as expected.