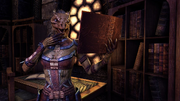 Lifts-Her-Tail is a character from the book The Lusty Argonian Maid, A Song and its sequels. She is an Argonian maid employed by Crantius Colto, who is infatuated with her, and seeks to have intimate relations with her.
She makes several accidental euphemisms whilst doing housework, which Crantius Colto simply uses as a way to infer sexual behavior.[2][3][4][5][6]
Appearances
Edit
References
Ad blocker interference detected!
Wikia is a free-to-use site that makes money from advertising. We have a modified experience for viewers using ad blockers

Wikia is not accessible if you've made further modifications. Remove the custom ad blocker rule(s) and the page will load as expected.