Lilmoth
Talk

0
19,048pages on
this wiki
Lilmoth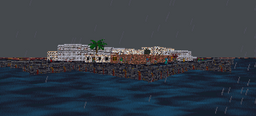 Map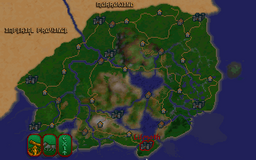 Lilmoth
is a city in
Black Marsh
. It is the farthest south-eastern city both in the province and in all of
Tamriel
. It is one of several possible locations that the
Eternal Champion
may discover in
The Elder Scrolls: Arena
.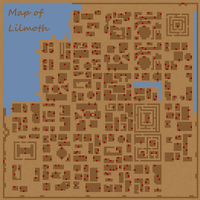 Prior to the Imperial colonization of the original Argonian city of Lilmoth, it was ruled by Argonian priest-king and queens. The earliest record of an Imperial sovereign in the city dating to 3E 109 when Magnus Septim wedded the Queen of Lilmoth, Hellena. Lilmoth had previously been sympathetic to Cyrodilic interests even before its colonization during the Third Era, as far back as the Reman Empire and its war with Morrowind, with the warlord of the city of the time, Ulaqth, leading troops into battle against the Duke of Mournhold. The only other recorded warlord of the city was a warlady called Ioa. In the early years of the Fourth Era, Lilmoth fell victim to the floating city Umbriel. This event is known as The Slaughter of Lilmoth. This was one of the most gruesome massacres in all of Tamriellic history. This was also the place where both Annaig Hoinart and Mere-Glim, two friends who lived for a time on Umbriel, were born.
Lilmoth has had two Hist trees. One went rogue at an unknown time, and the second was grown from a single fragment that survived the elder's killing, as said by Mere-Glim in The Infernal City.
Lilmoth shares the name with the race of beastfolk known as Lilmothiit, indicating a possible connection.
Appearances
Edit