Linwe's Armor Set
Talk

11
19,085pages on
this wiki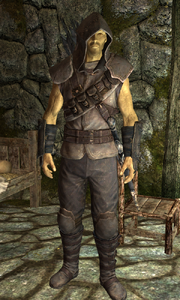 A light armor similar to the
Thieves Guild Armor
or
Guild Master's Armor Set
, obtained by looting or pickpocketing Linwe at
Uttering Hills Cave
. This armor is similar to what
Tonilia
,
Sapphire
,
Vipir the Fleet
,
Thrynn
and
Ravyn Imyan
 wear, and the hood is similar to the hood that 
Cynric Endell
is wearing.
Looted or pickpocketed from Linwe located at Uttering Hills Cave. The Thieves Guild Special Job quest Summerset Shadows, sends you to this location.
This set can be disenchanted for its unique enchantments. Possibly bugged as the unique enchantments cannot be enchanted on any equipment, therefore you'll only waste the equipment by disenchanting it.
There is currently an odd bug that applies to this armor alone - In first person view, the character's arms do not show, creating a strange floating-glove anomaly. This glitch is not seen with any other "sleeveless" armor types.
Sometimes the hood will bug, causing the character to become bald (Observed on PS3 as Wood Elf, on 360 as a female Nord and Dark Elf, and on PC as Breton and Dark Elf) this can also happen if you contracted vampirism and didn't cure it in three days.
The hood can glitch and if equipped first, you can also equip a second piece of armor in the head slot getting the effects from both pieces.
There seems to be a bug where full armor set perk does not apply to this set.
Bugged on one of the mannequins in Lakeview Manor Armory, gauntlets and boots kept respawning after you placed a different armor set. This can be solved by removing the bugged parts leaving the manor from the second floor armory exit and returning back in.
Attributes
Edit
Linwe's Armor Set Stats

| | Armor | Weight | Value | Effect | BaseID |
| --- | --- | --- | --- | --- | --- |
| | 11 | 2 | 837 | Sneaking is 15% better. | 00108543 |
| | 11 | 2 | 483 | One-handed attacks do 15% more damage. | 00108545 |
| | 16 | 2 | 563 | Bows do 15% more damage. | 00108546 |
| Linwe's Armor | 31 | 6 | 368 | Increases your stamina by 15 points. | 00108544 |
| Total | 69 | 12 | 2251 | | |