Lis
Talk

0
18,978pages on
this wiki
Lis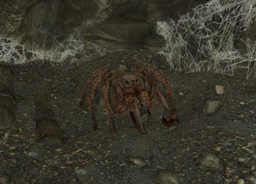 Basic Info
Lis is a seemingly tamed frostbite spider located in a spider nest within the Dark Brotherhood Sanctuary. It is owned by Gabriella. Lis' name would appear to suggest it is female. The player seems to be unable to inquire anything concerning the spider's relationship to the other Dark Brotherhood members. As a result, Lis' origins, as well as the identity of the one who trained her are unknown. Attacking her will cause the Dark Brotherhood to become hostile and attack.
Interactions
Edit
Lis is killed during the attack on the Dark Brotherhood Sanctuary by the Penitus Oculatus Agents.
In the small pond in the nest are the skeletal remains of a person named Gaston Bellefort, who was killed by the Dark Brotherhood and fed to Lis.
If a Dark Brotherhood member witnesses the Dragonborn attacking and or killing Lis, all members will become hostile.
The Dragonborn will not be attacked by the Dark Brotherhood members if he/she sneaks while he/she kills Lis.
You can cast a fury spell on Lis and the other members of the Dark Brotherhood will kill it without being hostile to you.
Appearances
Edit