M'aiq the Liar
Talk

27
25,085pages on
this wiki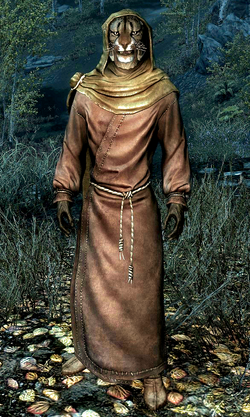 "M'aiq knows much, and tells some. M'aiq knows many things others do not."
―M'aiq the Liar
M'aiq the Liar is a recurring source of misinformation in the Elder Scrolls series, featured in The Elder Scrolls III: Morrowind, The Elder Scrolls IV: Oblivion, The Elder Scrolls V: Skyrim and The Elder Scrolls Online. He was introduced by the game designers as an easter egg to provide commentaries about the Elder Scrolls series.
Interactions
Edit
Wherever he is found, he loves to share his opinions with those he meets on a variety of random topics including children, Colovian fur helms, companions, crossbows, dragons, fighting with one's feet, fish sticks,nudity, werewolves and more. He almost always speaks in third-person when spoken to, like most Khajiit. He is marked as an essential character in all games and thus cannot be killed.
In MorrowindEdit
M'aiq is a Khajiit who resides on a small island northwest of Dagon Fel, and is motionless. He lies about nearly everything, an exception being the Lost Shrine of Boethiah. His directions to it, though, are not so helpful (instead, try swimming west from Hla Oad, and look down to begin the search for the lost shrine). Another exception is the Mudcrab Merchant. (Head to the Mzahnch Ruin. Search around for a small island, where the merchant is. He'll buy anything from the Nerevarine at full price.)
In OblivionEdit
M'aiq the Liar
Race
Khajiit
Level
40
Class
Savant
Ref ID
0000AA5B
Base ID
000C47EC
In Oblivion, M'aiq has emigrated from Vvardenfell to Cyrodiil. This time wearing a tattered robe and a tattered hood (both only obtainable through glitch), M'aiq conveys information and comparisons about the differences between Morrowind and Oblivion, as well as other topics that appeared on the game's forums. His information is no longer false, but may contain in-game jokes.
In a change from being stationary in Morrowind, he is almost constantly moving from one place to another. Beginning in the Nibenay Basin, he moves between Leyawiin and Anvil and every so often, searching for calipers for five hours. Calipers appear in a lot of caves and ruins so there is no telling where the Hero will find him.
He will also go out of the map towards the Lirid River, but he cannot be followed. Sometimes he will chase random deer in the wild for no apparent reason. He is the fastest person in The Elder Scrolls IV: Oblivion and can outrun all purchasable horses except the Black Horses of Cheydinhal.
(Listed in alphabetical order)
In SkyrimEdit
In Skyrim, M'aiq returns but is likely a descendant of the original M'aiq as 200 years have passed since Oblivion.
He continues his nomadic journey across the land. Unlike in Morrowind and Oblivion, the M'aiq in Skyrim spawns randomly and can be found in many places in the open world. He can be found as early as Helgen, but will only spawn after Unbound is completed.
M'aiq carries three bottles of Skooma that can be pickpocketed. After attempting to talk to him three to five times (in some cases, once), he will say he is tired and walk away.
M'aiq the Liar
Race
Khajiit
Gender
Male
M'aiq travels around Tamriel and spreads his wisdom. This M'aiq is likely an ancestor of the previous M'aiq, since The Elder Scrolls Online takes place hundreds of years before the other Elder Scrolls games.
Appearances
Edit
References
Edit