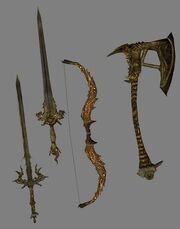 Madness Weapons are one of the two new weapon sets in The Elder Scrolls IV: Shivering Isles expansion. For these weapons, the hero must collect madness ore and give it to the craftsman in Cutter's Weapons in Crucible, who can make madness armor or weapons at the Hero's request.
If the Hero wishes the weapon to be enchanted, they must also collect the proper matrices for each item. When the Hero makes an enchanted item, the matrix for it will be removed from the inventory.
Enchanted weapons
Edit
These items can be enchanted if the proper matrix is provided when they are made. The enchantment strength and quality of the weapon is leveled and therefore depends on when the Hero had the weapon made. All madness and amber weapons have the same leveled damage health enchantment.
Appearances
Edit
Ad blocker interference detected!
Wikia is a free-to-use site that makes money from advertising. We have a modified experience for viewers using ad blockers

Wikia is not accessible if you've made further modifications. Remove the custom ad blocker rule(s) and the page will load as expected.