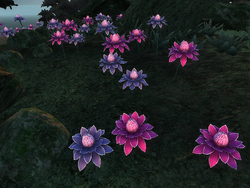 Mana Bloom can be found in the Savage Garden and Carac Agaialor of Gaiar Alata during the Paradise quest and in the expansion's location, Frostcrag Spire. They can yield two different ingredients:
The ingredient Ambrosia can be harvested from the blue Mana Bloom plant.
The ingredient Lichor can be harvested from the purple Mana Bloom plant.
Appearances
Edit
Ad blocker interference detected!
Wikia is a free-to-use site that makes money from advertising. We have a modified experience for viewers using ad blockers

Wikia is not accessible if you've made further modifications. Remove the custom ad blocker rule(s) and the page will load as expected.