Mara's Eye Den
Talk

2
19,082pages on
this wiki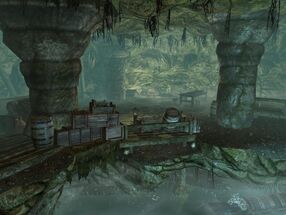 Mara's Eye Den is a sublocation of the clearing named Mara's Eye Pond in The Elder Scrolls V: Skyrim. This place can be reached by opening the trap door found on the small island in the middle of the lake.
Description
Edit
This hidden cave is found in the clearing of Mara's Eye Pond. It is currently inhabited by two mage vampires who have sheltered here to hide from possible threats and to feast on the human corpses they hunted. A Smuggler's body and his journal can be found here, along with a dead Vigilant of Stendarr, locked in a cage. There is also an executioner's block with a Woodcutter's Axe on top of it.
Notable Loot
Edit
A few precious gems can be found on the table where the smuggler's journal is located
An Apprentice locked chest
A large chest containing a random enchanted item and some other random loot. Can contain as little as a few gold and an ore, or 3-5 enchanted items. Resets on entering the den, so doing a quicksave outside and re-loading will give you a new set of loot.
Vigilant of Stendarr body - inside the cage
Guide To Better Thieving in a box with other books and a soul gem on top of the crates near the entrance
Gold purse sitting inside the mouth of a bird sculpture
A mace (type and enchantment dependent on level) can be found on the floor between the two beds.
 PC 

 360 

 PS3 

If you jump while facing the "Open to Skyrim" ladder, you may get another prompt "Open/Close Door" despite there being no door that will open or close. this is true for computer as well.
It's possible to get stuck between the large pillar and crates where the books and soul gem are located. If this happens, it is recommended to load a previous save, but it is barely possible to get out by sneaking and jumping in Third-Person veiw.
Appearances
Edit