Meeko's Shack
Talk

0
19,063pages on
this wiki
Meeko's Shack is a small dwelling located in The Elder Scrolls V: Skyrim.
This shack is home to the canine follower Meeko, and is found east of Dragon Bridge and south of Solitude Sawmill.
Meeko can be found roaming around areas near the shack. If he finds the Dragonborn, he will bark and lead them to his master's shack. Once there, Meeko will whine over the loss of his master. Here the dog can be made a follower. He will agree and he will follow the player as a new companion. Meeko will still follow the player even if there is another follower, and this is completely normal.
Inside the shack, a dead Nord is lying on a bed. At the end of the bed is a table with various items on it. Such items include a lantern, bread, and most notably a journal. Reading this one page journal explains the story of this lonely man's death and mentions his companion, Meeko.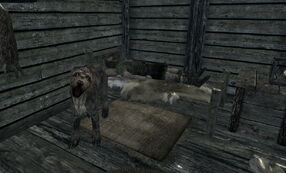 Notable Loot
Edit
If Meeko becomes a follower and the Dragonborn returns to the shack after some time, the dead Nord and his bed will have disappeared.
If the dead Nord is reanimated using an ordinary spell or a staff, he will not turn to ash, as though one had used Dead Thrall.
Appearances
Edit