Ad blocker interference detected!
Wikia is a free-to-use site that makes money from advertising. We have a modified experience for viewers using ad blockers

Wikia is not accessible if you've made further modifications. Remove the custom ad blocker rule(s) and the page will load as expected.
For other uses, see Mehrunes' Razor.
Mehrunes' Razor is a Daedric artifact of Mehrunes Dagon, that appears in The Elder Scrolls IV: Oblivion as part of the Mehrunes Razor plug-in.
A powerful Daedric artifact located in Cyrodiil. It was created by the Daedric Prince Mehrunes Dagon and has the ability to kill a target instantly using its Daedric Banishing magic. The weapon also has the ability to take the souls of the enemies that it banishes. It is located in the lost Ayleid city of Varsa Baalim. In the Third Era the arch mage Frathen Drothan was excavating the ruins in an attempt to locate it. The fort of Sundercliff Watch was built atop these ruins during the Reman Dynasty.
The Dark Brotherhood has coveted this ebony dagger for generations. This mythical Daedric artifact is capable of slaying any creature instantly. History does not record any bearers of Mehrunes' Razor, however, the Dark Brotherhood was once decimated by a vicious internal power struggle. It is suspected that the Razor was involved.[1]
Acquisition
Edit
Properties
Edit
Level
Base Value
Weight
Base Damage
Health
Enchantments
Charge
# of Uses
Weapon ID
1
210
3
7
200
Disintegrate Armor 5 pts for 3 secs
Daedric Banishing
8000
205

xx

001ab0
2-4
225
4
9
300
Disintegrate Armor 5 pts for 3 secs
Daedric Banishing
8000
205

xx

005fb8
5-6
250
5
11
400
Disintegrate Armor 5 pts for 3 secs
Daedric Banishing
8000
205

xx

005fb9
7-9
345
6
13
500
Disintegrate Armor 10 pts for 5 secs
Daedric Banishing
8000
95

xx

005fba
10-12
520
7
15
650
Disintegrate Armor 10 pts for 5 secs
Daedric Banishing
8000
95

xx

005fbb
13-15
870
8
17
700
Disintegrate Armor 10 pts for 5 secs
Daedric Banishing
8000
95

xx

005fbc
16-19
1600
9
19
1000
Disintegrate Armor 15 pts for 7 secs
Daedric Banishing
8000
49

xx

005fbd
20+
3100
9
19
1200
Disintegrate Armor 15 pts for 7 secs
Daedric Banishing
8000
49

xx

005fbe
Weapon Reach: 0.80
Weapon Speed: 1.40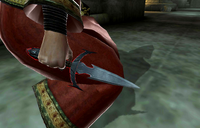 References
Appearances
Edit