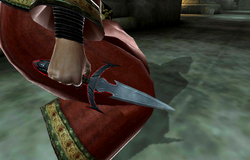 For other uses, see Mehrunes' Razor.
Mehrunes' Razor (DLC9) is the fifth official plug-in for The Elder Scrolls IV: Oblivion from Bethesda Softworks. It features a quest for a Daedric artifact known as the Mehrunes' Razor from the lost Ayleid city of Varsa Baalim. It is priced at $2.99 for the PC and 250 Microsoft points ($3.13) in the Marketplace for Xbox 360. It requires the v1.1.511 patch to work.
From the official site
Edit

"Conquer one of the deepest and most challenging dungeons in all of Cyrodiil and claim one of the most fearsome weapons imaginable."
A fully-featured quest taking the Hero deep into the fringes of the Niben.
Earn the fearsome Mehrunes' Razor, with the ability to kill foes instantly.
17 new magic items to discover
Conquer the largest dungeon in all Cyrodiil.
Thwart a plot to overthrow Imperial rule in Tamriel.
12 new books, notes, and journals to help the Hero unravel the mystery.
Hidden treasures
New quest
Edit
For full quest details, see Unearthing Mehrunes' Razor.

"I've heard talk of the lost Ayleid City called Varsa Baalim where Mehrunes' Razor is hidden. If I search the ruins of Sundercliff Watch in the Eastern Niben, I may be able to find the lost city and recover this powerful daedric artifact."
―Quest journal
New items
Edit
New characters
Edit
Non-follower allies
Edit
New locations
Edit
External links
Edit
Official site Information about Mehrunes' Razor from the official website