Mournhold (Tribunal)
Talk

3
19,095pages on
this wiki
For this city in other games, see Mournhold.
Mournhold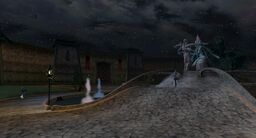 Map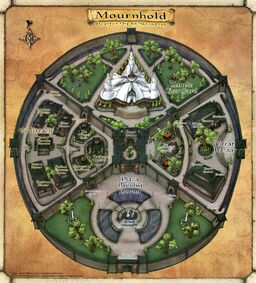 Official artistic map by Bethesda
The city of Mournhold, sometimes called the City of Gems, at the time the Nerevarine visits it, is home to King Helseth Hlaalu, the ruler of Morrowind, and the god Almalexia, a member of the Tribunal, as well as birth place of Barenziah. It's referred to as "The city of light and magic" by the local people.
Mournhold is a temple-city within the capital city of Almalexia, the largest and oldest city in Morrowind, named for its patron goddess. Almalexia is truly an ancient city, possibly predating the Dunmer. It is reputed to be built over the ruins of a vast Dwarven city, although the current inhabitants vigorously deny this.
Here the intrepid traveler would find the center of the Tribunal cult, in the sprawling palace/temple of Mournhold, a city within the city. This is also the seat of government of the Dark Elves, where the priests of the Tribunal rule in the name of their legendary deities. Mournhold was not destroyed like some of the other cities in Morrowind after the Oblivion Crisis. Mournhold is the setting of the Tribunal questline during the Tribunal expansion pack.
In The Elder Scrolls V: Dragonborn DLC, it is stated that Mournhold was sacked by Argonians some time during the 4th Era, but is in the process of rebuilding.
Mournhold is split into five distinct districts: Godsreach, Great Bazaar, Plaza Brindisi Dorom, Royal Palace, and The Temple Courtyard.
The Great Bazaar
Edit
The Great Bazarr is an area for selling merchandise. Here you can help in the play "The Horror of Castle Xyr", buy your very own pet rat or scrib or help a lone elf find love. Underneath are the sewers and the old ruins of Mournhold Manor, which is now home to the Dark Brotherhood.
Appearances
Edit